YOLO COUNTY BAR ASSOCIATION IS SOLICITING NOMINATIONS FOR 2015 LIBERTY BELL AWARD
The Yolo County Bar Association is accepting nominations for its 2015 Liberty Bell Award. The Liberty Bell Award is presented by the Yolo County Bar Association each year to honor a non-lawyer who has promoted better understanding of the rule of law, encouraged greater respect for law and the courts, stimulated a sense of civic responsibility, or contributed to good government in the community.
The Liberty Bell Award was established more than 30 years ago to acknowledge outstanding community service.
Nominations can be submitted by contacting Marissa Sirota at by email.
Please provide contact information and a brief description of the nominee and why she or he is deserving of the award.
YCBA WILL OBSERVE LAW DAY ON MAY 1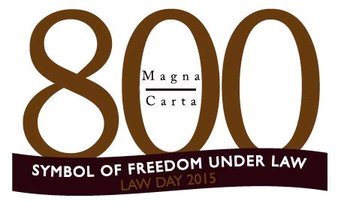 This year's Law Day theme is "The Magna Carta and the Rule of Law.&quot
The Yolo County Bar Association will observe Law Day on Friday, May 1.
Law Day was established by President Dwight D. Eisenhower as a "day of national dedication to the principle of government under law," and will be celebrated with events throughout the country. Law Day celebrates the American heritage of liberty, justice and equality under the law.
Every year, Law Day provides legal professionals and others with opportunities to help students and the public understand the importance of our legal system and how the law protects our freedoms.
Law Day also provides an opportunity to recognize the role of courts in this democracy and the importance of jury service to maintaining the integrity of the courts.
This year, eight hundred years since the Magna Carta first became law, bar members across the country will pay homage to the principals it codified.
When: Friday, May 1st
Keynote Speaker: The Honorable Paul K. Richardson, Judge, Superior Court of Yolo County
Time: 12:00 Noon to 1:30 P.M.
Where: The Atrium, 625 Court Street, Woodland, CA
The cost: $30
YCBA MEETING: APRIL 16, 2015
When: Thursday, April 16, 12: noon to 1:00 pm
Program: Creating an Ethical and Effective Web Site
Speaker: Brian Pakpour, YCBA President
Where: Odd Fellows Lodge, 415 Second Street, Davis
Cost: $20 (for program and lunch)
Brian will discuss how you can build a better web site than the one you have now, and it will be both effective at driving business to your law office, as well as developing a brand with which your clients will identify you. You can do this without tripping up over any of the Bar's ethical pitfalls. This talk will focus on both the ethics of legal advertising, as well as real world, practical advice for marketing your practice in a way that is inexpensive, and makes the most of your time.
The Yolo County Bar Association is a State Bar of California approved MCLE provider. This program is approved for 1 hour of MCLE credit, which includes 0.5 hour for ethics.
To insure a place and to help us have an accurate lunch count, please R.S.V.P. to Marissa Sirota by April 14.
NOTE: This meeting will be held in Davis
PRESIDENT'S MESSAGE
Brian Pakpour
First of all, I want to thank all of you for continuing your membership in the Yolo County Bar Association. We are small in number, but ginormous (That is a word. I looked it up.) in our camaraderie and fellowship. When you consider just how tight knit this Bar is, it is truly amazing how we continue to be so, despite how much our numbers grow.
2014 was an exciting year. We witnessed (and some of us participated in) what may be the last open election for a judicial seat in any of our lifetimes. We said "goodbye" (or maybe, more accurately, "see you around") to Judge Stephen Mock, whose 24 years of service has left a lasting impression on each attorney and court staff member who has had the privilege to work with him. Most enjoyably, we watched the downtown Woodland skyline expand, as it now includes our new courthouse, due for completion this June.
2015 is shaping up to be equally exciting, as the new courthouse will be completed, and all of us, for the first time in several decades, will be filing our pleadings and arguing our cases in the same building, regardless of the areas of law in which we practice. This to me has been the most anticipated consequence of the new courthouse, as I look forward to seeing all of your wonderful faces each day. (I really mean that.)
Your bar association is planning some new developments of which you should be aware. First, you heard right. We will hold three of our monthly MCLE luncheons in Davis this year, dates and places to be determined. I know this means some of you Woodland folks will find it more difficult to attend. However, we hope your Davis brethren, who normally don't attend the Woodland meetings, will use these luncheons as an opportunity to participate. If that does not occur, then it is likely we will return next year to keeping the meetings in Woodland. Davis meetings are something with which we've decided to experiment.
Second, we are planning to hold quarterly Happy Hours, with the first one scheduled for March. These Happy Hours will be a great opportunity to meet fellow members of the bar without any agenda. We also plan to invite local law students to these social gatherings. Secretary Marissa Sirota will be planning these events, so feel free to send her your ideas regarding them.
Please remember: this is YOUR bar association. We want to hear from you when you have new ideas or productive feedback. Our e-mail addresses are contained in every newsletter.
-- Brian Pakpour, President, Yolo County Bar Association
2015 MEMBERSHIP DUES
It is time for members to renew their dues for 2015, and of course The Yolo County Bar Association always welcomes new members. The Application for 2015 YCBA Bar Membership is HERE.
Dues are $50 for private sector attorneys and $25 for government sector attorneys.
If you would like to become a member, or renew your membership, please download and complete the application and mail it in with your payment. The mailing address is: Yolo County Bar Association, P.O. Box 1903, Woodland, CA 95776-1903.
Bar Association Committees - When filling out your application please express your interest in participating in either of the committees that help our group serve our community.
The YCBA committees are:
Law Day
Continuing Legal Education
Your Practice Area - Be sure to complete the part of the application that deals with your area of practice. Your contact information, including areas of practice, is listed on the Member Lookup area of the website, which can be searched by name and by area of practice. If you are a current member, please check your listing here.
Bilingual? There have been a number of requests for information about attorneys who provide services in languages other than English. There is a place in the application where attorneys can provide this information, which will then be listed in the Member Lookup area of the website.
Support the Yolo County Law Library - When completing your YCBA membership form, please consider including a donation to the Yolo County Law Library. Please see the renewal application for more details.
2015 YCBA OFFICERS
Yolo County Bar Association Officers for 2015 are:
President: Brian Pakpour
Vice-President: Sherine Pahlavan
Secretary: Marissa Sirota
UPCOMING MEETINGS
May 1, 2015 - Law Day
Theme: The Magna Carta and the Rule of Law
Keynote Speaker: The Honorable Paul K. Richardson, Judge, Yolo County Superior Court
Description: Eight hundred years since the charter first became law, bar members across the country will pay homage to the principals it codified.
When: Friday, May 1, 2015
Where: The Atrium, 625 Court Street, Woodland, CA
Cost: $30
May 21, 2015
Topic: The Posthumous Admission of Hong Yen Chang
Speaker: Professor Jack Chin, U.C. Davis School of Law
Description: Hong Yen Chang was reportedly the first Chinese immigrant to earn a law degree, but due to discrimination at that time he was never allowed to be admitted to the California bar. A new decision has come down that has approved the posthumous admission of Hong Yen Chang into the California bar in order to attempt to correct this wrong. Professor Chin will discuss the history of this man and this historic decision.
When: Thursday, May 21, 2015
Where: Yolo County Law Library, 204 Fourth Street, Woodland
Cost: $20
June 18, 2015
Topic: The State of the Court
Speaker: The Honorable Kathleen M. White, Presiding Judge, Yolo County Superior Court
Description: Judge White will discuss the current state of the Yolo County Court and related issues.
When: Thursday, June 18, 2015
Where: Yolo County Law Library, 204 Fourth Street, Woodland
Cost: $20
September 17, 2015
Topic: The Top 10 Ways to Avoid Malpractice
Speaker: Wendy Green
When: Thursday, September 17, 2015
Where: Yolo County Law Library, 204 Fourth Street, Woodland
Cost: $20
There will be no meetings in July or August
JOB OPPORTUNITY
Horan Lloyd, a law firm in Carmel (horanlegal.com), is seeking a full-time associate with 2 to 6 years of experience in corporate, estate planning, tax, transactional and business law.
HERE is their flyer with information about this position.
Mandatory Fee Arbitration Procedures
The Yolo County Bar Association's Mandatory Fee Arbitration program is administered by the California State Bar rather than by a local administrator.
The State Bar will utilize local arbitrators from Yolo and Sacramento counties to conduct fee arbitrations when fees charged by Yolo County attorneys are disputed and mandatory fee arbitration is initiated.
All requests for Mandatory Fee Arbitrations should be directed to the California State Bar. The main telephone number for the Mandatory Fee Arbitration department at the State Bar is 415-358-2200. Mandatory Fee Arbitration forms and resources are available at the State Bar's website at www.calbar.ca.gov. Once contact is made with the State Bar, it will start the arbitration process, accept pleadings, appoint an arbitrator, and issue the arbitration award.